Discover Dispute Resolution
A relationship mediation service provider in Perth
A dispute & relationship mediation provider based in Perth required a new web presence to begin lead generation
Client: Discover Dispute Resolution & Mediation
Website: www.ddrm.com.au
Category: Relationship Mediation
Service: WordPress Web Design & Lead Generation
Jessica, head mediator, at DDRM wanted her Wix website rebuilt on the WordPress platform to give her professional foundations to commence with Google Ads, social media ads, as well as Search Engine Optimisation.
The Wix platform simply didn't match her business goals.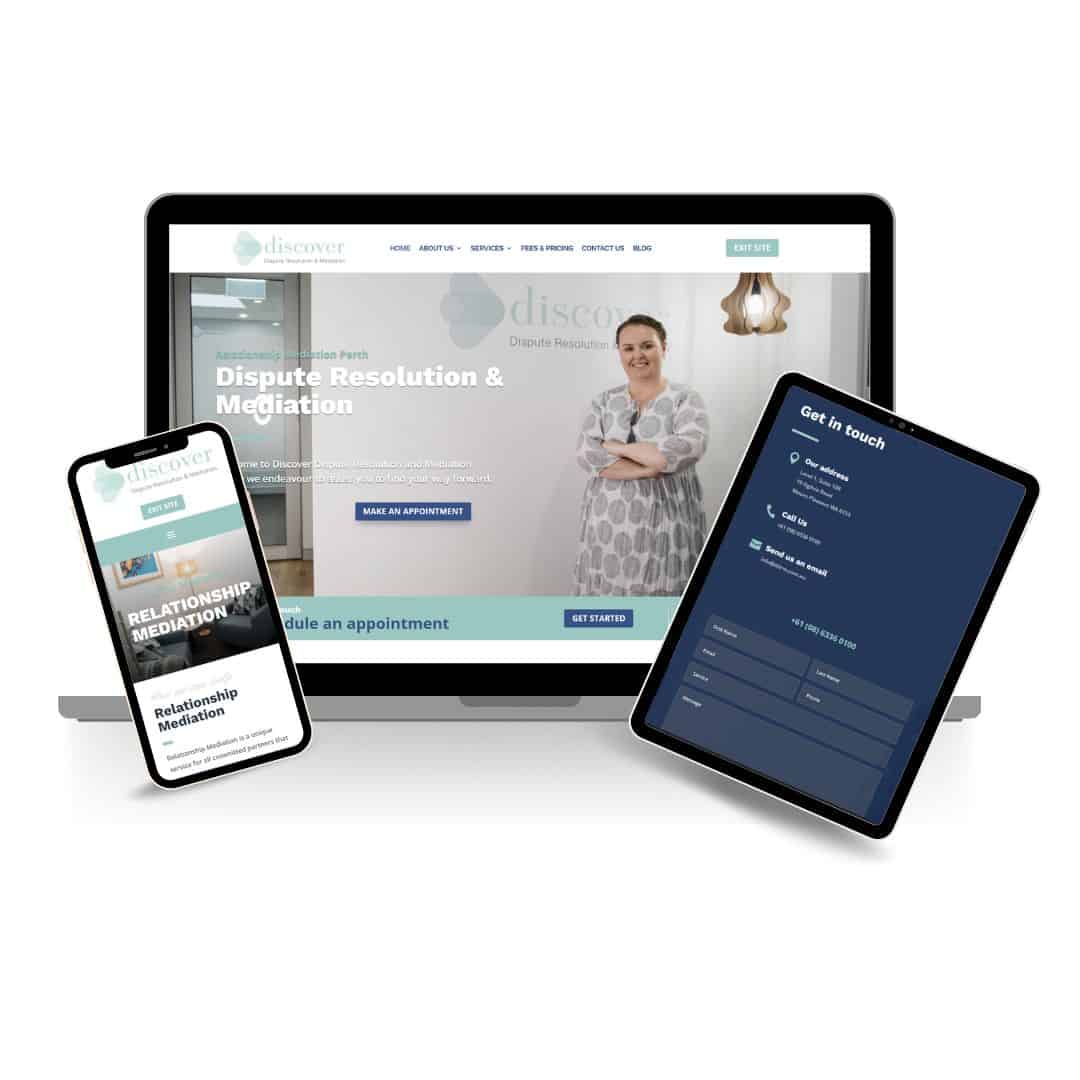 Our Task
Our task was to build DDRM a new WordPress website that clearly promoted her unique relationship mediation service in Perth.
A market that has historically been unaware of the relationship mediation here in Western Australia, we aimed to make the journey easy for users to find the information they required.
Process
Before we could get started with her website, we needed to go deep on the research to determine how her "competitors" on the east coast were presenting content, attracting clients, and educating those not familiar with relationship mediation as a service.
Once we had a good idea of how best to lay out the site, we worked with Jessica to get the right content for the site, in an easy to digest manner.
Dealing with a sensitive matter, a quick exit button was vital to ensure the safety and privacy of website users.
Result
Within 4 short weeks to had organised a photoshoot on-site for Jessica and subsequently built her a website that she was super happy with, which makes us happy.
We installed a number of tracking tools to gather data on user behaviour, laying the groundwork for her next step, lead generation.
Conclusion
Having a solid website is essential if you want to pursue strategies like Google Ads or SEO.
Your website is the epicenter of all of your digital marketing initiatives, if that's not done right, you're wasting your time, money and effort.
Want to have a chat about your website and see what your competitors are maybe doing better?